Inground Pool Closing
Sorry to say that the swimming pool season is soon coming to an end. Call now, to book your Pool Closing.
Residential Pools Only
Extra Large Pools May Add Additional Cost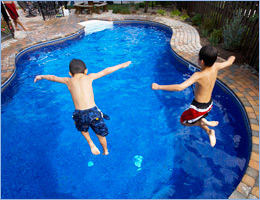 OTHER POOL SERVICES:


Pool Repair and Maintenance
Liner Replacements
Pump Replacements
Heater Replacements
Filter Replacements
Chlorine Free Salt Systems
Nature II Mineral Systems
Chemical Sales
Solar Covers and Reels
2 POOL CLOSING OPTIONS TO SERVE YOU!
Standard Deluxe Pool Closing
Regularly $349.99 – Now just $299.99 + Chemicals and Tax
Included Closing Features:
Drain pool to proper level
Net out debris from top of pool
(Pool should be clean, clear, and vacuumed)
Test pool for proper chemical levels
Remove ladder, handrails, and accessories when possible
Blow out and plug all plumbing lines when possible
Blow out heater and drain filter
Hose off cartridges or DE grids
Add non-toxic antifreeze to lines when needed
Install provided Secur-A-Cover or tarp
Install provided water tubes, if needed
*All plugs, gizzmos, and water tubes to be provided by homeowner
Pro Edge Deluxe Pool Closing
$349.99 + Chemicals and tax
Includes all of the Standard Deluxe Closing Features and:
Light vacuuming of the pool bottom
Cleaning of pool steps
Water line cleaning
*Extremely dirty pools may incur additional charges
Mastercard/Visa/Discover Accepted
Call us, for further details, and to schedule your pool opening.